Emergence of Unique Libraries in the World
Content:
What is Library?
Purpose and Function of Libraries
Emergence of Unique Libraries
Some Unique Libraries
Other Unique Libraries
Recommendation & Conclusion
References
What is Library?
Library is a collection or group of collections of books and/or other print or nonpoint materials organized and maintained for use (reading, consultation, study, research, etc.) (ODLIS).In addition, we can define libraries as a structure, location, or area that houses collections of sources, resources, and services. It is a place where knowledge is organized in a systematic way for individuals who are interested to access it, such as books, newspapers, magazines, manuscripts, recordings, and other things. There are two types of libraries: libraries based on formats and libraries based on structure.
Library by Structure: National Library, Academic Library, Public Library, Special library.
Library by Formats: Traditional/Print Library, Digital Library and Hybrid Library
Purpose and Function of Libraries
1). National Library: Serve as the preeminent repository of information for that country. Also, their main function is to reservation and promotion of the national cultural heritage of the nation of that country.
2). Public library: Are social institutions based on the concept of democracy. i.e. for the people, by the people, and of the people. Anyone can visit, get membership and use it. Everyone has an equal right to use it.
3). Academic libraries: Are established in schools, colleges, universities and other educational intuitions and these are established to fulfill the academic needs of students, teachers and researchers
4). Special Library: Established and funded by a commercial firm, private association, government agency, nonprofit organizational or special interest group to meet the information needs of its employees, members, or staff in accordance with the interest of its host organizations missions and goals.
Emergence of Unique Libraries
There are wonderful libraries all over the world that are well-known for their extensive collections and services. But there is an issue that when someone wants to read, one's cannot always go to the great libraries.People who live in rural locations may not even have access to a school library or a public library in their town. As a result, for persons living in rural places or with limited access to books and other reading materials, quite creative solutions have been found to provide them with library access, including transporting books to their doorsteps in some circumstances. Thy emerged as name of unique librariesUnique libraries don't have traditional structures and embrace unusual shapes and forms, but they all serve the same purpose: to provide people with books to enjoy and learn from. Some famous unique libraries around the world are followings:
Mobile Library
Camel Library
Library Ship
Beach Library
Library on Public Bus
Vended Machine Library
Library in Salon
An Open Garden Library
Others Unique libraries.
1). Bookmobile or Mobile Library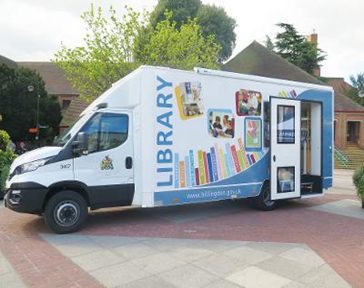 A bookmobile, sometimes known as a mobile library, is a vehicle that can be used as a library. Throughout history, they have been referred to as travelling libraries, library wagons, book wagons, book trucks, library-on-wheels, and book vehicle services.
Bookmobiles help traditional libraries reach more people by carrying books to potential readers and giving library services to those in underserved areas (such as rural areas) (such as residents of retirement homes). The services and contents provided by bookmobiles (such as Internet connectivity, large print books, and audiobooks) can be tailored to the specific regions and demographics serviced.
2). Camel Library
Camels not only carry load or give you a ride on the beach, yet can also carry books on their backs. In 1985, the Kenya National Library Service launched a programme to help nomadic communities, where literacy rates are as low as 15% and reading materials are scarce. The book-carrying camels set up camp in open areas, where anyone who wants to read can go, choose a book, read it, and then return it to the book trunk. Camels transport books and other reading materials from one location to another.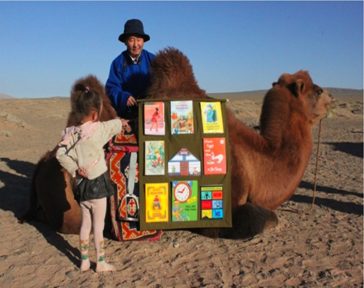 Camel libraries are also found in other places, such as Mongolia and Pakistan (Baluchistan etc.) Mobile camel library carries books to children in Baluchistan villages (November 2020)In these countries in specific areas, camels are still used to access remote regions.
3). Library Ship
On Islands in Fjords, Norway, a book boat known as 'Epos' sails with 6000+ books to more than 250 small communities on islands in Fjords, Norway. Epos sails every year between September and April.On board the ship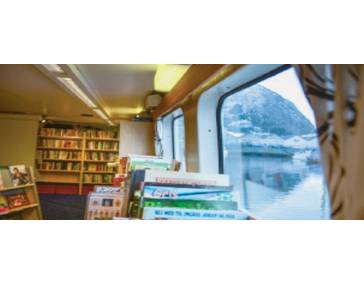 There are the captain, a cook, a couple of librarians and one or two entertainers, which make this library a unique experience. It was started in 1959, the service is funded by the libraries of the three counties — Hordaland, SogonogFjordane and More ogRomsdal — that it serves. In summer, the floating library turns into a leisure cruise ferry
4). Beach Library
While on a beach, you walk on the sand or venture in the water for a swim. However, sometimes after a tiring swim or while sun bathing, one feels like picking up a book to read. You must have seen a few avid readers laying on the beach with a book for company.For such people there is a library on the sandy beach of Bulgarian Black Sea resort.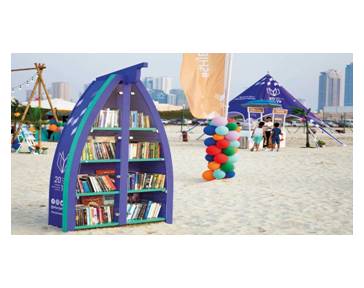 It was German architect Herman Kompernas' idea to build a library there and he stocked it with over 2,500 books in 10 languages, now over 6,000 books in more than 15 languages. Guests can borrow the books for free and leave their own for others to read.Now beaches in many other countries have started having libraries which have gained popularity with beach and book lovers.
5). Library on a Public Bus
Brazilian bus collector Antonio da ConceiçãoFerreira, has a passion for reading, and this passion inspired him to create what he calls, 'Culture on the Bus'. He transformed the bus he rides, into a small library.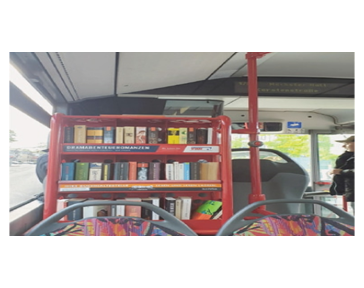 Buses in other countries have also been spotted having a small shelf for passengers to pick up a book and pass away the time. Initially, he carried a cardboard box full of books and wrote the names of people who took the books, but now the books are lined on a shelf inside the bus and passengers can read while riding. He does not care if people return the books or not, as the idea is that the books are passed from person to person
6). Vending Machine Libraries
You can not only take out your favorite soft drink from a vending machine, but can also pay a fee and vend out a book you wish to read.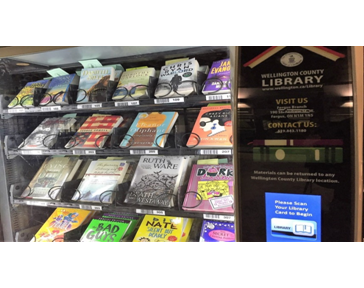 The concept of book-vending machine is not new, but in recent years more and more libraries are being set up on busy streets, at train stations and in shopping centers.
7). Library in Salon
In the state of Tamil Nadu, in the city of Thoothukudi, a barber by profession (PonMariyappa), he encourages reading by having a small library in his salon.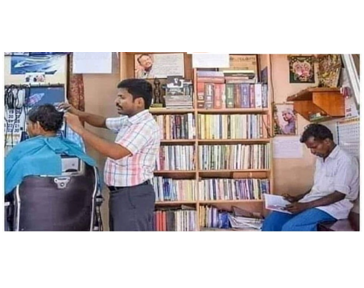 He keeps books instead of magazines and newspapers for his customers, to encourage the habit of reading. And the use of mobile phones is also prohibited in the salon. Moreover, the person who reads gets a 30 percent discount on the services.
8). An Open Garden Library
The Levinski Garden Library was established in Israel to help migratory workers and refugees. This outdoor library, located in a Tel Aviv park, has books in 15 languages. There are no doors, guards, or barriers in the library. The 3,500 books are organized on two lit shelves: one for adults and one for youngsters.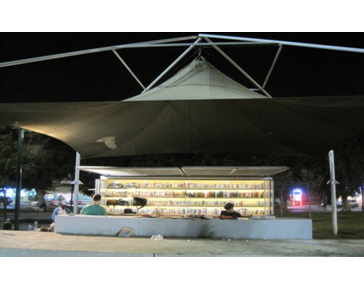 The library stays open late at night to welcome people who want to rest and read beneath its big umbrella.
 Other Unique Libraries
Other unique libraries have also been founded in the world, few of them are following:
Tiny Free Libraries
Phone Booth Library
Donkey Library
Do you know any?
Recommendation & Conclusion
We have seen that many unique libraries have emerged around the world in different places with their specific purposes. In our country, Pakistan, so many unique or new types of libraries can be built in different places, which can promote reading habits and fulfill others purpose of library. Following are some areas where we can build unique libraries in different places in the countries that can offer books or reading materials to people to enjoy and learn from them. Such as: Mentioned above Libraries in park street libraries on transport place and in transport vehicles as well.
References
Naqvi, R. (2020, February 01). Unique libraries. The Dawn. Retrieved from https://dawn.com/news/1531277
Dad, H., &Newroz, S. K. (2nd eds.). (2012). A guide to a library and information science: questions and answers. Lahore: Multiline.